One Step Temporary FencingTM
THE NO TOOLS, QUICK ASSEMBLY FENCING KIT

gardens

leaf retention

snow block

camping

small pets

chicken pens

pedestrian barrier

vehicle control


driveway barrier

construction

and more!
No Tools… No Slipping…
No Sagging… No Sweat!
Installs in minutes
Until now, temporary fencing required awkward posts that often broke while hammering them into the ground. One Step Temporary FencingTM has taken care of that problem – and more! Quite simply, it's the easiest and best temporary fence you cay buy!
Our fence post design presses into the ground with one step of your foot.

The unique "Y" notch at the top of each fence post holds fencing in place as you attach it to the post – no fencing slipping down the posts.

Plastic ties secure fencing to posts so it stays put until you decide to take it down.

Light weight, easy, quick to install and reusable!


Made in the USA.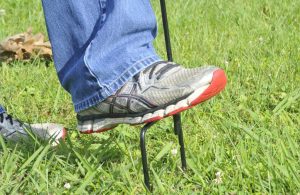 Step post into position
With one simple step, you quickly anchor fence posts into the ground. No struggling to hold the post… no tools… no sweat!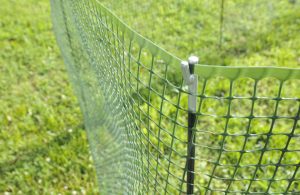 Hang Fencing on "Y" Notch
Quickly loop the fencing through the unique "Y" notch at the top of each fence post. This securely holds the fencing in place as you install and keeps it from slipping down the post over time.
Secure Fence With Ties
After hanging the netting on the posts, attach it to the posts with the secure plastic ties provided in the kit.
Protect & Direct
GARDENS… Wrap One Step Temporary FencingTM around your gardens to deter pets and animals (even the human kinds) from trampling and eating your fresh plants and vegetables.
LEAF RETENTION… Need to keep your leaves in one place while you rake? One Step Temporary FencingTM is a great leaf containment system. It's quick and easy to set up and the 36″ fence height is tall enough to prevent the wind from scattering the leaves back across your yard.
CAMPING… Take One Step Temporary FencingTM camping to deter curious creatures or to provide a temporary dog run for you favorite pets. It's a great way to set up safety boundaries for small children as well.
SNOW BLOCK… One Step Temporary FencingTM can be set up as a temporary snow block to keep snow from creeping into unwanted areas.
DRIVEWAY GUARD… Set up your One Step Temporary FenceTM as a barrier at the end of your driveway to keep young children or balls from entering the street.
CHICKENS PENS… One Step Temporary FencingTM is perfect for temporary chicken pens. Rotate where your chickens hang out by setting up separate pen areas. These temporary fences are quick and easy to set up, take down and move as necessary – and they stay in place.
PEDESTRIAN AND VEHICLE CONTROL… Our light-weight temporary fence serves as the perfect means to block people or cars from entering unwanted areas, or to help direct traffic flow. Perfect for festivals, sporting events or parties. The unique "Y" notch on the top of each pole securely holds the fencing in place!
CONSTRUCTION… One Step Temporary FencingTM can help mark construction sites or prevent people or vehicles from hitting potholes or other dangerous areas.
AND MORE… One Step Temporary FencingTM is light weight, portable and reusable. It can easily be used for so many applications. Help us to discover more. Go to our Facebook page and show us how you use One Step Temporary FencingTM, then share it with your friends!