One Step Temporary FencingTM Kit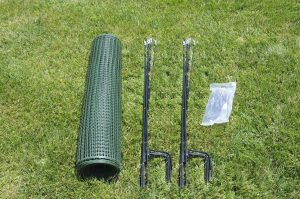 One Step Temporary FencingTM comes as a convenient fencing kit that includes everything you need for installation.
50 FOOT KIT
50 feet of fencing (36″ height installed)
8 metal posts
Package of plastic ties
Made To Last
One Step Temporary FencingTM is a durable, reusable complete fencing kit! Our sturdy metal posts are powder coated for long-lasting product life and they won't bend or shatter like fiberglass or wooden posts.
The unique "Y" notch at the top of each post, securely holds the fencing in place as you assemble the fence and keeps it there until you decide you're ready to take the fence down.
One Step Temporary FencingTM is perfect for gardens, leaf retention, camping, small pets, temporary chicken pens, preventing access to specified areas, and more! Buy it today and build your fence in minutes!
What makes One Step different?
Quick to Install
No Tools Required
Light-Weight
Durable
Made In the USA
Reusable
No Slipping
No Slidding
Everything You Need is Included
Compare
Other temporary fencing products slip off the post and slide down, creating unsightly and potentially unsafe conditions.
One Step Temporary Fencing'sTM "Y" notch and plastic ties holds the fence in place, preventing slippage.